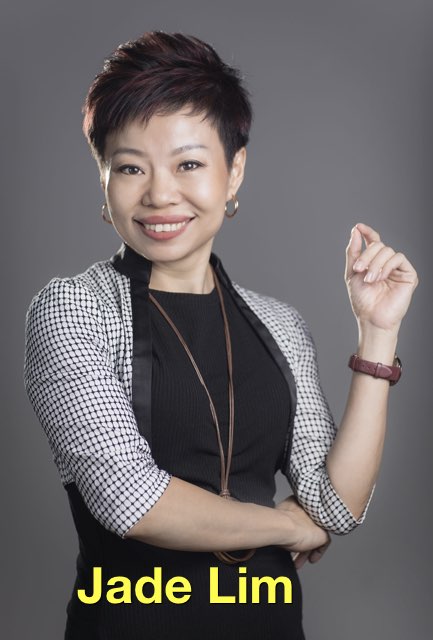 Certified Beauty Consultant, CIBTAC
Certified Image Consultant, AICI CIC
Certified Behavioral (DISC) Consultant, IML Inc.USA
Certified NLP Practitioner, ABNLP
Certified Motivation Factor® Coach, CMFP Denmark
Personal Efficiency Program Facilitator, PEP® Worldwide 
Jade Lim helps executives and leaders build confidence and influence via different touch points. She helps companies drive performance through positive reinforcement of employee mindset, skillset, attitude and work habits. Her training and coaching focus in three key areas: Image Branding, Service Excellence, Team Impact. 
From someone timid, raised in the Chinese educated culture, she has now transformed into an assertive leader. Her journey of transformation has empowered her to help people overcome similar challenges. She is a Journalist, Translator and Camp Counselor in US turned Trainer, Speaker and Coach. In 2008, she started her training and consulting journey in Amway Malaysia as the Beauty Trainer. She developed and conducted training programs for Malaysia, Brunei and Singapore. She also managed a pool of contract trainers to ensure quality and effectiveness of trainings in boosting sales performance. 
Growth is her value in life. As she progresses, she takes on different International Certifications. She embarked in Image Management (ABC – Appearance, Behavior, Communication) in 2009 and this remains as her core expertise. As an individual who believes in Mastery, she is very particular on the depth of content. For example, on Colour aspect of Image alone, she is certified with three International Colour Systems. She never stop learning. She further her knowledge and application in DISC and NLP. In addition, she is the only Image Consultant in the world who employs Motivation Factor® (Denmark) and Personal Efficiency Program® (PEP, Sweden). That means, she is able to go deep down the iceberg to help people discover WHY they do what they do. And she uses a 35-year global proven PEP® solution to help people make positive changes in their work habits. 
She is awarded Global Award of Excellence 2019 from Association of Image Consultants International. A coveted award given to one Image Consultant internationally a year. As a regular Convention speaker and a corporate trainer for many MNCs and Fortune 500 companies, she has trained and coached more than ten thousand people of diverse industries and nationalities. Some significant companies are Top Glove, Greenland, B Braun, Exxon Mobil, Watsons, OCBC and many more. She is a Convention Speaker of Klang Chinese Chamber of Commerce and Industry, AIA Fam 2017, Experian Be Bold to Change 2017, APEX Pharma 2018, Young Living Convention 2018, Rockwills Convention 2019.
With Jade's influence and knowledge in the field of image management, she was invited to write a bi-monthly column for Nanyang Siang Pau from 2011-2013. She has appeared on NTV7 and RTM to talk on the impact of change – especially on personal image and behaviors.
A trainer often transfer skillset; while a leader leads change. Jade's ability has gone beyond an ordinary trainer. She arms with strong leadership skills that she drives 21-day to Change through a process. She held presidency role in Taman Indrahana Toastmasters Club, Association of Image Consultants International Malaysia Chapter, Business Network International Premier Chapter. She has achieved major breakthroughs in her leadership work. 
Some companies she has trained and coached
FlyFM, HotFM, OneFM, Big Tree, Primeworks Studios, Mercedes-Benz, The Star, Star-FM, Maxis, Digi, Experian, Dell, Getronics, Exxon Mobil, In-Situ, BioTech Corp, Eita, Imperial Garments, Ecoworld, Sunway Property, Latimer, IQI, MCT, B&G, Ifilosofie, Kingsley International School, OCBC, Maybank Group, Allianz Life, CIMA, KPMG, AIA Fam, Rockwills, Great Vision of ING, SICM of Great Eastern, CSK Alliance, Gibraltar BSN, Infinity, Bursa, EPIC, FPG Oleochemicals, Canasia Network Amway, CA Success Amway, TGW Amway, Young Living, Vaseline, Philip Wain, Michelle Lazar, Watsons Malaysia, Unilever, University of Women Association, BG96, among others. Collaborated with Frontier Business Intelligence, she has trained participants from many government agencies including UITM, Kumpulan Pendidikan YPJ, Risda, Jabatan Perdana Menteri, Selia Ekuiti, University Sultan Zainal Abidin, Perbadanan Labuan, Sabah Electricity, Kementerian Pertahanan Cawangan Sabah, Sabah Air Aviation, DBKL, Insan, Biro Penerangan Sabah, among others.